Chris Hemsworth is making sure the world knows what's important close to home.
The Aussie actor, 39, took to his Instagram Story on Friday with some kind words for his "friend" Natalie Fornasier, a 28-year-old Sydney woman whose cancer diagnosis was recently deemed terminal.
"My friend [Fornasier], who many of you know from Episode 6 'Acceptance' of Limitless, is unfortunately not doing well," Hemsworth wrote in a personal message to his 56.1 million Instagram followers.
READ MORE: Meghan 'deliberately excluded' from key royal event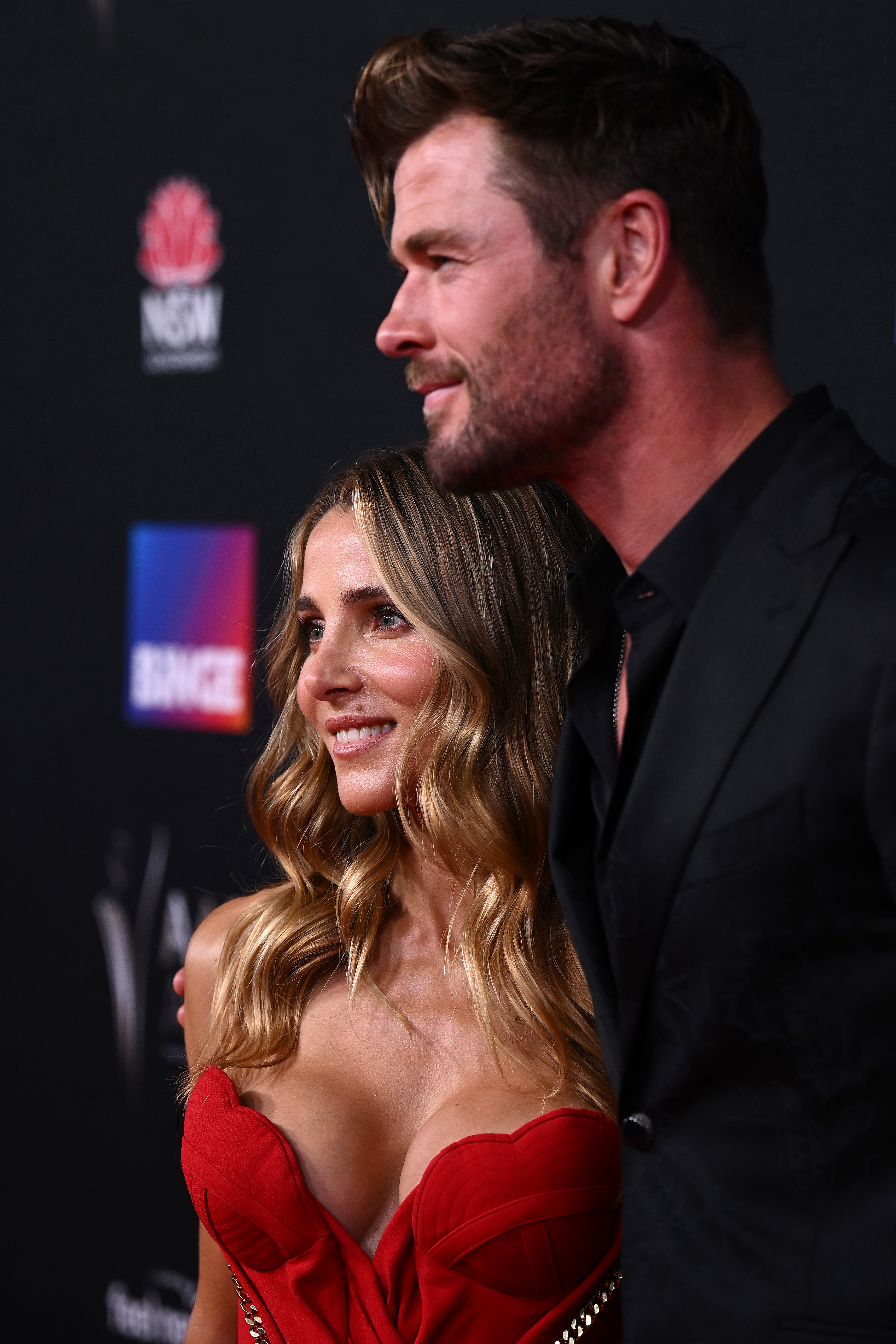 "I, like so many of you, continue to be moved by her story and even more impressed with her positivity," Hemsworth continued.
"Natalie is a person who displays perpetual grace in the face of adversity; she is kind, selfless, and brave in how she continues to tell her impactful story openly."
Hemsworth then shared Fornasier's recent Instagram posts, in which she details how she's grappling with her terminal diagnosis and her grief over what could have been, with a note that he "[hopes] that her strength, perseverance, and dignity inspires you today – and every day."
"Don't mind me, just shedding a few tears at this," Fornasier responded to Hemsworth's message.
READ MORE: How daughter inspired Aussie cricket legend's latest career move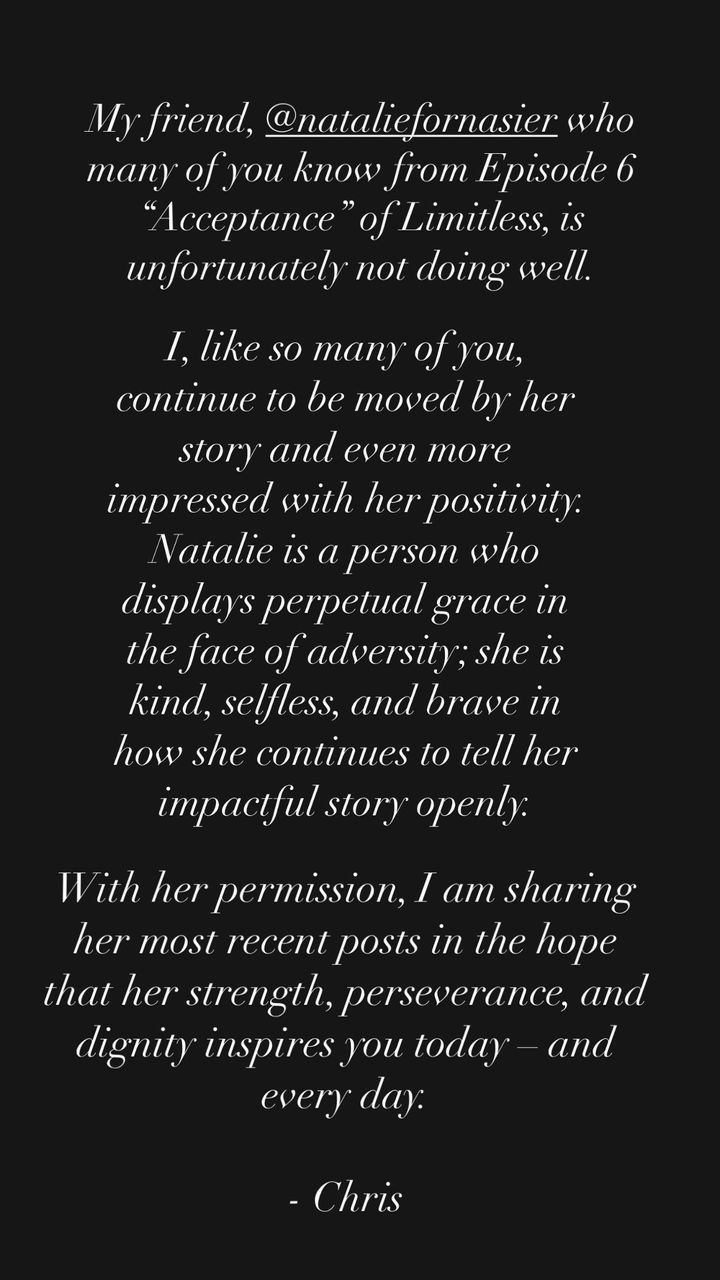 https://www.instagram.com/p/Cl57HVJPnE8/?hl=en
On December 8, Fornasier shared with her followers that at the end of July, she received the news her cancer was terminal and she "had months left to live."
Fornasier has been battling an aggressive melanoma for the last eight years, and said she had been "skating" around the word "terminal" for years, and it always "terrified" her as she knew it was a possibility – but it was also a "fame of mind [she] never anticipated [she] would have to enter."
"Every day for the past four months I've cried and screamed," Fornasier wrote. "I've fallen into oblivion crying for [husband] Alexander, the heartbreak, and the love I would be leaving – for the life we were supposed to have."
Fornasier noted her grief over the "life [she] was supposed to live", including growing old and having children.
"It's not easy to admit that I'm dying. At 28 years old… everything about it feels wrong. The conversations I've had to have, the plans I've had to make, the places my thoughts have gone and are still going – none of it is natural. It's painful," she continued.
READ MORE: A-lister almost ruined Michael J. Fox's enduring romance
https://www.instagram.com/p/CmAUkTnSz8v/?hl=en
"My doctors don't know how long I have, and to be honest neither do I – my organs can go into failure at any moment, or I could bleed out. I don't know if I'll see Christmas. Life is so unpredictable; it really reminds you of how little to no control we have over our lives," Fornasier continued.
"But what I do know is that I'm thankful and grateful for my life – even though it's been a 'struggle' it's been MY life. Mine. And I've loved living it. Although dying feels incredibly lonely, I've never felt more loved than I do right now – which is one of the only positive things about approaching the end. Life and mortality are in our faces all the time – we just choose to ignore it because it's in our nature. For me, and for the last four months, it's never been more real. Maybe because in staring down death every day for the past eight years – I've been forced to know that life – every single minute of it – is borrowed time. So let me leave you with this: live EVERY DAY. And just love as much as you can."
Days later, Fornasier revealed on Instagram she had secretly married her partner, Alexander, weeks earlier in a palliative care facility. 
"We may have gotten married in a palliative care facility and not in Italy as once dreamed, but it didn't matter. Love is all that matters. Truly. Just love," she wrote.
READ MORE: Why Kate Winslet broke vow made after Titanic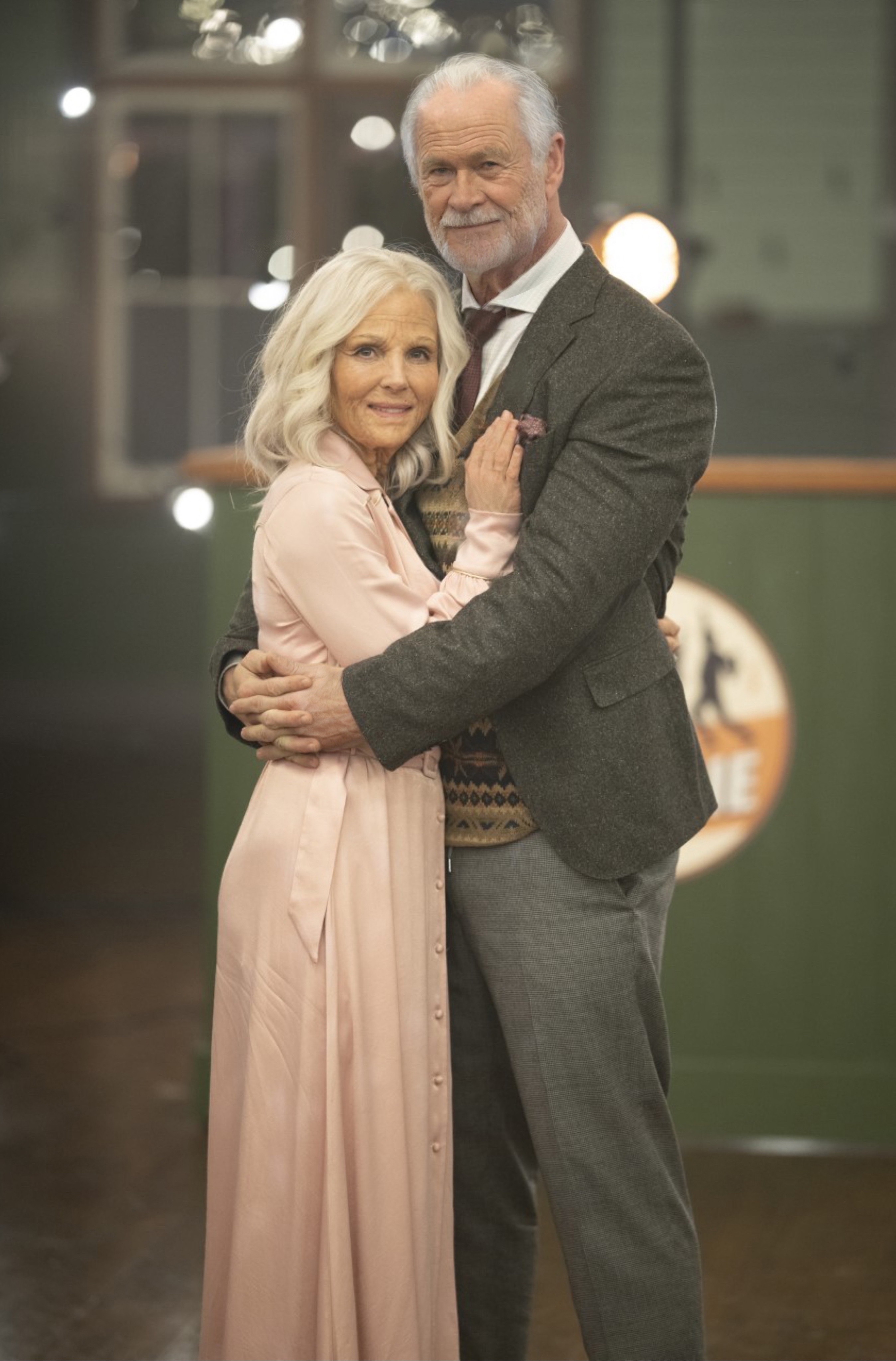 Fornasier appeared in Episode 6, 'Acceptance', of Hemsworth's Disney+ show Limitless, which sees Hemsworth grapple with ageing by taking on extreme physical challenges.
'Acceptance' saw Hemsworth spend three days in a retirement village, where he wore an ageing suit that turned even the simplest of tasks into Herculean quests. Ultimately, he decided that the best way to combat ageing and his fear of mortality is not to fight it, but to accept it.
In the episode, Hemsworth also goes on a date with wife Elsa Pataky, but both of them have been aged. Elsa with make-up and prosthetics, and Chris in post-production with technology.
Limitless is also how Hemsworth discovered he has a genetic predisposition to Alzheimer's, which prompted him to prioritise spending more time with his family.
Fornasier's friends have set up a GoFundMe on behalf of herself and her family, to cover Fornasier's funeral expenses and ease the financial burden on Alexander and her family as they grieve.
For a daily dose of 9Honey, subscribe to our newsletter here.